Zwei-Howle

ツヴァイ・ハウル

Name
Zwei-Howle
Kanji/Kana
ツヴァイ・ハウル
Released in (Japanese)
BS02
Released in (English)
BS02- Rise of Angels
Color
Red
Cost
6
Reduction
Symbols
Family
Winged Dragon
Ability
Evolution (Awaken)
Levels
Level 1: 1 core, 4000 BP
Level 2: 4 core, 5000 BP
Level 3: 7 core, 7000 BP
Description

English
[LV1][LV2][LV3] Flash Evolution - You may move any number of cores from spirits you control to this spirit.

[LV2][LV3] (When Attacks) You may destroy target spirit with 2000BP or less.

Japanese
Lv1・Lv2・Lv3:フラッシュ【覚醒】 自分のスピリット上から、コアを好きなだけこのスピリット上に置くことができる。

Lv2・Lv3『このスピリットのアタック時』 BP2000以下のスピリット1体を破壊できる。

Flavor Text

English/Japanese
As you can see, they won't stop fighting each other until there's only one left. They say that only the one who survives is qualified to be the king.

Japanese
ああやって、最後の1匹になるまで戦い続ける。

そして、生き残ったヤツが王になるんだと。

Rarity
Common
Illustration
Eisyun Fujii
Rulings/Restrictions
The English version incorrectly leaves out the words "you may" in the effect.
Trivia
Gallery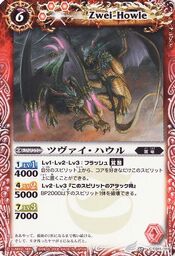 Community content is available under
CC-BY-SA
unless otherwise noted.