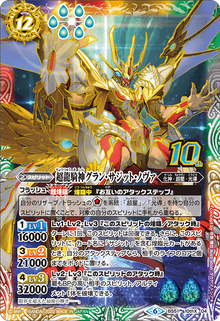 Ultra Advent (超煌臨 ; Choukourin) is a keyword introduced in BS51, exclusive to The SuperCentaurusDeity Grand-Sagitto-Nova.
The effect is worded as follows:
While Advent consisted of sending Soul Core from anywhere to the Trash, Ultra Advent brings it from outside the Field onto a Galaxian/Superstar family Spirit. This way, while it cannot be used consectuvely with itself, Ultra Advent can be used after regular Advent.
Related articles
Community content is available under
CC-BY-SA
unless otherwise noted.