(3 intermediate revisions by 2 users not shown)
Line 2:
Line 2:
 
 
 
 
−

Ultimate (''完全体; kanzentai'') is a family in the Battle Spirits trading card game. [[File:MeetalGreymonMag.jpg|thumb]]

+

Ultimate (''完全体; kanzentai'') is a family in the Battle Spirits trading card game. [[File:.jpg|thumb]]

 
 
−

It premiered in CB02, and only applies to cards within that set. The name comes from a pre-existing term in the Digimon franchise, which is why it shares a name with the Battle Spirits card type.

+

It premiered in CB02. The name comes from a pre-existing term in the Digimon franchise, which is why it shares a name with the Battle Spirits card type.

 
 
 

==Also see:==

 

==Also see:==

 

[[:Category:Ultimates (Family)|List of Ultimates]]

 

[[:Category:Ultimates (Family)|List of Ultimates]]

 
+

[[Category:Family]]
---
Revision as of 06:37, 3 December 2018
This article is for the family. Not to be confused with the card type, Ultimate.

Ultimate (完全体; kanzentai) is a family in the Battle Spirits trading card game.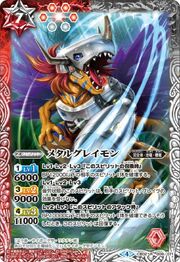 It premiered in CB02. The name comes from a pre-existing term in the Digimon franchise, which is why it shares a name with the Battle Spirits card type.
Also see:
List of Ultimates