Arcane: League of Legends - The Loop
Play Sound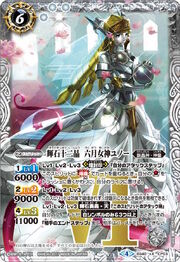 Twinkle Seal (煌封印, Koufuuin) is a variation of the Seal keyword, introduced in BS40. It is possessed by the PyroxeneTwelveGem archetype, God-Kings which support Advent. The keyword's text reads as:
Twinkle Seal (Your Attack Step) When stacking a card on this Spirit with Advent, your  (Soul Core) is sent to the Life instead of the Trash.
As Advent requires sending Soul Core to the trash, its use could hinder the previous God-King decks, which relied on Sealing. Through Twinkle Seal, God-Kings can be played alongside the debuting Advent cards and also obtain the bonus that is being able to Seal during Flash Timing, which was only possible through The RabbitTwelveGodKing Mistral-Bit previously.
Cards That Have Twinkle Seal Effects
Spirits with Twinkle Seal
Related Articles