The Yojinbo Antman

用心棒アントマン

Name
The Yojinbo Antman
Kanji/Kana
用心棒アントマン
Released in (Japanese)
Released in (English)
BS04- Ascension of Dragons
Color
Green
Cost
4
Reduction
Symbols
Family
Shellman, Parasite
Ability
(Revival: Rush)
Levels
Level 1: 1 core, 5000 BP
Level 2: 3 core, 7000 BP
Description

English

[LV1][LV2] (When Attacks/Blocks) Your opponent cannot activate a Burst.
[Rush(Condition: Red Symbol)] While you have a red symbol, the effect below activates in sequence:
: Destroy one opposing Spirit with lower BP than this spirit.
:This Spirit gains +10000 BP.

Japanese

Lv1・Lv2 『このスピリットのアタック/ブロック時』
相手はバーストを発動できない。


[連鎖:条件《赤シンボル》] (自分の赤シンボルがあるとき、下の効果を続けて発揮する)
[赤]:このスピリットのBP以下の相手のスピリット1体を破壊する。
[赤][赤]:このスピリットをBP+10000する。

Flavor Text

English/Japanese

It was so quick. From the moment the ant type intruder was attacked by a beast, another ant who came from nowhere sliced the beast in half.
-from the 4th paragraph in chapter Green of "Record of the Strange World" by Wander Lolo"-

The Birds were wary, and thus it wasn't possible to get the Snakekind's help to escape. Instead, the one that guided us were the Shellmen that acted under the Ogre Wizards.
-from the 2nd section of "New Record of the Strange World" chapter Purple-

Japanese

あっという間の出来事だった。目の前で獣の牙にかかった蟻型の侵略者。倒れたと思った瞬間、どこからか現れた別の蟻に、獣は斬り倒されていた。……今度は我々が逃げなくては……

鳥たちは警戒され、蛇族の下からの脱出に協力するのは無理だった。かわりに導いてくれたのは、呪鬼に下ったと思われていた殻人たちだった。
―『新異界見聞録』第2部 紫の章より―

Rarity
Uncommon
Illustration
Koji
Rulings/Restrictions
None
Trivia:
Gallery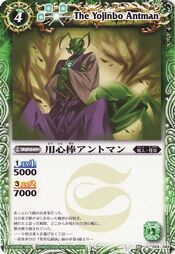 Community content is available under
CC-BY-SA
unless otherwise noted.