The White Machine Deity
白き機神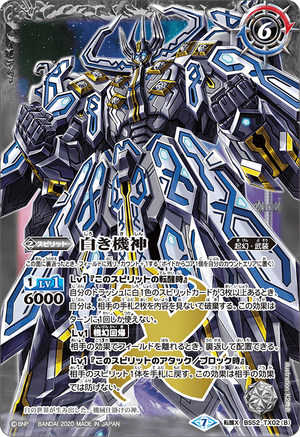 Card Effects
When you flip into this side, this card remains on the Field, and you gain a counter. (Put a core from the Void to your Counter Area.)

[LV1] (When Reborn)
If you have three or more White-only Spirit cards in your Trash, discard two random cards from the opposing Hand. This effect can only be used once per turn.

[LV1] Return to Prime
When this Spirit would leave the Field by opposing effects, you can flip and deploy it.

[LV1] (When Attacks/Blocks)
Return an opposing Spirit to the Hand. This effect cannot be prevented by opposing effects.
Card Effects (JP/日本語)
この面に裏返ったとき、フィールドに残り、カウント+1する(ボイドからコア1個を自分のカウントエリアに置く)

Lv1『このスピリットの転醒時』
自分のトラッシュに白1色のスピリットカードが3枚以上あるとき、自分は、相手の手札2枚を内容を見ないで破棄する。この効果はターンに1回しか使えない。

Lv1【根幻回帰】
相手の効果でフィールドを離れるとき、裏返して配置できる。

Lv1『このスピリットのアタック/ブロック時』
相手のスピリット1体を手札に戻す。この効果は相手の効果では防げない。
Gallery