Roblox: DeepWoken - The Loop
Play Sound
The WaterUltimateSky Princess-Oto
水極天プリンセス・オト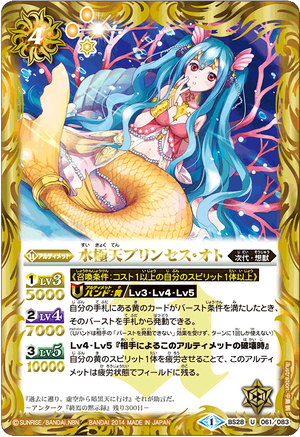 Card Effects
[Summon Condition: You control one or more Cost 1 or more Spirit]
Ultimate Hand

: Yellow

[LV3][LV4][LV5]


When the Burst condition of a Yellow card in your Hand is fulfilled, you can activate that Burst from the Hand.
(Ultimate Hand is unaffected by opposing "cannot activate Burst" effects, and can only be used once per turn.)

[LV4][LV5] (When Destroyed by the Opponent)
By exhausting a Yellow Spirit you control, this Ultimate remains on the Field, exhausted.
Card Effects (JP/日本語)
【召喚条件:コスト1以上の自分のスピリット1体以上】

【Uハンド:黄】Lv3・Lv4・Lv5
自分の手札にある黄のカードがバースト条件を満たしたとき、そのバーストを手札から発動できる。
(Uハンドは相手の「バーストを発動できない」効果を受けず、ターンに1回しか使えない)

Lv4・Lv5『相手によるこのアルティメットの破壊時』
自分の黄のスピリット1体を疲労させることで、このアルティメットは疲労状態でフィールドに残る。
Sets
BS28 (Block icon 1 - Uncommon)
Illust:

Nakashima Tai

EN Flavor:


"Return to the past, and from Empty Sky go to the Dark Sky" was their counsel.
—Antarc, Revelations of the Apocalypse, 300 days remaining—

JP Flavor:


『過去に遡り、虚空から暗黒天に行け』それが助言だ。
―アンターク『終焉の黙示録』残り300日―

BSC27 (Block icon 3 - Uncommon)
Illust:

Nakashima Tai

EN Flavor:


"Return to the past, and from Empty Sky go to the Dark Sky" was their counsel.
—Antarc, Revelations of the Apocalypse, 300 days remaining—

JP Flavor:


『過去に遡り、虚空から暗黒天に行け』それが助言だ。
―アンターク『終焉の黙示録』残り300日―

BSC38 (Block icon 8 - Common)
Illust:

Nakashima Tai

EN Flavor:


"Return to the past, and from Empty Sky go to the Dark Sky" was their counsel.
—Antarc, Revelations of the Apocalypse, 300 days remaining—

JP Flavor:


『過去に遡り、虚空から暗黒天に行け』それが助言だ。
―アンターク『終焉の黙示録』残り300日―
Gallery