The ViridianDragonRider Grun

碧緑の竜使いグリューン

Name
The ViridianDragonRider Grun
Kanji/Kana
碧緑の竜使いグリューン
Released in (Japanese)
BS05
Released in (English)
BS04- Ascension of Dragons
Color
Green
Cost
6
Reduction
Symbols
Family
Dragon Knight, Shellman
Levels
Level 1: 1 core, 5000 BP
Level 2: 3 core, 8000 BP
Description

English
[LV1][LV2] (During Your Main Phase) When this spirit is chosen for Tribute, if this spirit is unexhausted, you may exhaust it. In that case, you don't need to move any cores from this spirit for the tribute.

Lv2 (Permanent) This spirit, "Dragon Emperor" spirits, and "Vanity Deity" spirits you control get the following effect text:

[Any LV] (When Attacks) Gain core in your Reserve equal to the number of Gems on this spirit.

Japanese
Lv1・Lv2

このスピリットが【転召】の対象になったとき、このスピリットを疲労させることで、 このスピリット上のコアすべてを指定場所に置いたものとして扱う。 Lv2 このスピリットと系統:「龍帝」/「虚神」を持つ自分のスピリットすべてに "『このスピリットのアタック時』ボイドから、このスピリットのシンボルと 同じ数のコアを自分のリザーブに置く"という効果を与える。

Flavor Text

English/Japanese
An extraordinary knight riding an extraordinary dragon. A spectacle that was seen in the previous world as well.
-from the 9th paragraph in chapter Green of "Record of the Strange World" by Wanderer Lolo"-

Japanese
異形の竜を駆る異形の騎士。かつての世界でも見た光景。

―放浪者ロロ『異界見聞録』緑の章第9節より―

Rarity
Rare
Illustration
Tomokazu Hara
Rulings/Restrictions
None
Trivia:
The English version of this card was printed without flavor text.
Related to: The ScarletDragonRider Rosso, The PurpleDragonRider Violet, The WhiteDragonRider Albus, The YellowDragonRider Flavum, The BlueDragonRider Azure, The GroundDragon Fon-Daxion, The ThunderDragonRider Rayblitz, The DarkDragonRider Sabna-Rook, The GroundDragonRider Vespeniar, The SkyDragonRider Platinam, The LightDragonRider Arcanajoker, The SeaDragonRider Vang-Tholomew, The MasterDragonRider Dark-Crimson
Gallery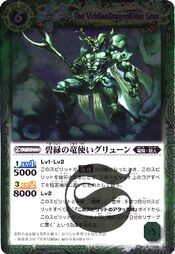 Community content is available under
CC-BY-SA
unless otherwise noted.