The UnicornDragon Volsung

一角竜ヴォルスング

Name
The UnicornDragon Volsung
Kanji/Kana
一角竜ヴォルスング
Name (Italian)
Volsung, Dragone Unicorno
Released in (Japanese)
BS05
Released in (English)
BS04- Ascension of Dragons
Released in (Italian)
SE01
Color
Red
Cost
7
Reduction
Symbols
Family
Ancient Dragon
Levels
Level 1: 1 core, 4000 BP
Level 2: 3 core, 6000 BP
Level 3: 5 core, 8000 BP
Description

English
[LV1][LV2][LV3] (When Destroyed) Your spirits with 2 or more gems get +5000BP until end of turn.

[LV2][LV3] (When Attacks) This spirit gets +3000BP until end of turn.

Italian
[LV1][LV2][LV3] (Quando Distrutto) I tuoi spirit con 2 o più Gemme prendono +5000PB fino alla fine del turno.

[LV2][LV3] (Quando Attacca) Questo spirit prende +3000PB fino alla fine del turno.

Flavor Text

English/Japanese
Stupid dragons. How many of them did they revive? It seems like they keep coming out endlessly.

Italian
Stupidi draghi. Quanti ne hanno resuscitati? Sembra che continuino a sputar fuori ininterrottamente.

Rarity
Uncommon
Illustration
Atsushi Takeuchi
Rulings/Restrictions
None
Appearances:
Battle Spirits Shounen Toppa Bashin
Battle Spirits Shounen Gekiha Dan
Gallery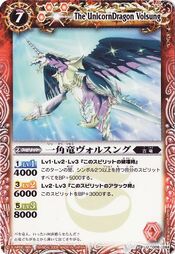 Community content is available under
CC-BY-SA
unless otherwise noted.