The ThunderDragon El-Clair

雷帝エール・クレル

Name
The ThunderDragon El-Clair
Kanji/Kana
雷帝エール・クレル
Name (Italian)
El-Clair, Drago Tonante
Released in (Japanese)
BS04, BSC03
Released in (English)
BS04- Ascension of Dragons
Released in (Italian)
SE02
Color
Red
Cost
6
Reduction
Symbols
Family
Dragon Emperor, Winged Dragon
Keyword
Tribute
Levels
Level 1: 1 core, 4000 BP
Level 2: 3 core, 8000 BP
Level 3: 5 core, 9000 BP
Description

English
Tribute: Cost 5 or more → Trash - After paying for the summoning cost, you must send all core from one of your Cost 5 or more Spirits to the Trash.

Flavor Text

English/Japanese
I've never seen him. How long has he been in the world? Does this mean that the rumor is true?

Rarity
Rare
Illustration
Eisyun Fujii (concept)
Rulings/Restrictions
None
Trivia:
Related to: The DarkDragon Ops-Curite, The GroundDragon Fon-Daxion, The SkyDragon Le-Ciel, The LightDragon Lumiere, The SeaDragon Courant-Marin, Lightning Ballista, The ScarletDragonRider Rosso, The ThunderDragonRider Rayblitz, The TwinkleThunderDragon El-Clair
Gallery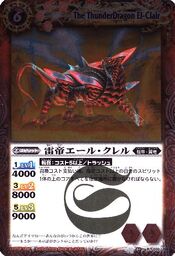 Community content is available under
CC-BY-SA
unless otherwise noted.