The SevenShogun Pandemium

魔界七将パンデミウム

Name
The SevenShogun Pandemium
Kanji/Kana
魔界七将パンデミウム
Name (Italian)
Pandemium dei Sette Shogun
Released in (Japanese)
BS04
Released in (English)
BS04- Ascension of Dragons
Released in (Italian)
SE02
Color
Purple
Cost
8
Reduction
4 Purple
Symbols
1 Purple
Family
Evil Deity, Dark Snake
Levels
Level 1: 1 core, 5000 BP
Level 2: 3 core, 6000 BP
Level 3: 6 core, 9000 BP
Description

English
[LV1][LV2][LV3] (During the Battle Phase) Each time you destroy a spirit your opponent controls, draw 1 card.

[LV2][LV3] (During the Battle Phase) Each time a spirit you control is defeated, exhaust target unexhausted spirit your opponent controls.

[LV3] (When Destroyed) Each player discards 5 cards.

Flavor Text

English/Japanese
The death of the first general from the evil world led to many deaths among the nobility.

Rarity
X-rare
Illustration
Jun Suemi
Rulings/Restrictions
None
Trivia:
Related to: The SevenShogun Desperado, The SevenShogun Destlord, The SevenShogun Beelzebeat, The SevenShogun Asmodios, The SevenShogun Beldegaulle, The SevenShogun Beliot, Soul Crash
Appearances:
Battle Spirits Shounen Toppa Bashin
Battle Spirits Shounen Gekiha Dan
Gallery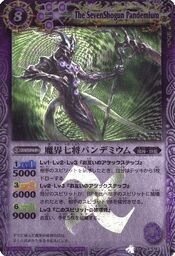 Community content is available under
CC-BY-SA
unless otherwise noted.