The PrincessVampire Vampiles

吸血姫ヴァンピレス

Name
The PrincessVampire Vampiles
Kanji/Kana
吸血姫ヴァンピレス
Released in (Japanese)
BS01, BSC22
Released in (English)
BS01- Call of the Core
Color
Purple
Cost
6
Reduction
Symbols
Family
Nightling
Levels
Level 1: 1 core, 3000 BP
Level 2: 2 core, 4000 BP
Level 3: 5 core, 6000 BP
Description

Japanese

Lv1・Lv2・Lv3『このスピリットの召喚時』 自分か相手の疲労状態のスピリット1体を破壊する。

Lv1・Lv2・Lv3『このスピリットの召喚時』疲労状態の相手のスピリット1体を破壊する。召喚コストに[ソウルコア]を使用していたら、さらに、自分のトラッシュにある紫のスピリットカード1枚を手札に戻す。

Flavor Text

English/Japanese
The merciless queen doesn't care about the evil world or traitors. She gives eternal sleep even to the people who are asking for her help.

Japanese
魔界も反逆者も関係ない。情けを知らない血の女王。助けを請う者にすら、永遠の眠りを与える。

Rarity
Uncommon
Illustration
Junko Taguchi
Rulings/Restrictions
If only you have an exhausted spirit when this is summoned, you must destroy your own.
Trivia:
Related to: Sacrifice
Gallery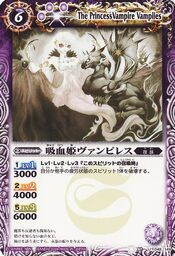 Community content is available under
CC-BY-SA
unless otherwise noted.