The Pikeman Jeffrey

槍兵のジェフリー

Name
The Pikeman Jeffrey
Kanji/Kana
槍兵のジェフリー
Released in (Japanese)
BS03, SD16
Released in (English)
BS03- Scars of Battle
Color
Blue
Cost
1
Reduction
0
Symbols
Family
Fighting Spirit
Levels
Level 1: 1 core, 2000 BP
Level 2: 4 core, 5000 BP
Flavor Text

English/Japanese
So many people are now flooding to this town for the competition meeting. Even though the gatekeepers are supposed to secure the town, they seem to be neglecting their jobs. They didn't even stop me when I tried to go in. I wonder if this is how they are here.
-from the 1st paragraph in chapter Blue of "Record of the Strange World" by Wanderer Lolo"-

Japanese
門番らしき巨人に、わたしは通行の許可を求めた。開催が決定された競技会のために、多くの人々が会場となるこの街に流入している。治安を守るための門番なのだろうが・・・・・・無視される。わたしも無視して城門をくぐった。いいのかこれで。
―放浪者ロロ『異界見聞録』青の章第1節より―

Rarity
Common
Illustration
Shigeki Hayashi
Rulings/Restrictions
None
Appearances:
Battle Spirits Shounen Toppa Bashin
Gallery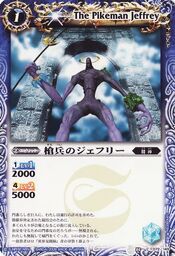 Community content is available under
CC-BY-SA
unless otherwise noted.