The MeteoriteArmor Monoqueiroz

月甲モノケイロス

Name
The MeteoriteArmor Monoqueiroz
Kanji/Kana
月甲モノケイロス
Released in (Japanese)
BS01, BSC22
Released in (English)
BS01- Call of the Core
Color
Green
Cost
5
Reduction
Symbols
Family
Shellman
Levels
Level 1: 1 core, 3000 BP
Level 2: 4 core, 7000 BP
Description

English

[LV1][LV2] (When Summoned) All spirits you control get +2000BP until end of turn.

[LV1][LV2] (When Summoned) During this turn, all spirits you control get +10000 BP.

Japanese

Lv1・Lv2『このスピリットの召喚時』このターンの間、自分のスピリットすべてをBP+2000する。

Lv1・Lv2『このスピリットの召喚時』このターンの間、自分のスピリットすべてをBP+10000する。

Flavor Text

English/Japanese
Do you believe in eternal youth and immortality? The thing is, there are some people who do believe. What's more, they are all extremely rough and violent.

Japanese
不老不死なんて本気で信じるかい?

信じてるやつらがいるからやっかいなんだよ。 しっかも極めつけの乱暴者ばっかりなんだから。

Rarity
Common
Illustration
Susumu Imaishi (concept)
Rulings/Restrictions
None
Trivia:
Related to: The CavalryBeast Sleiphorse, The SavageKnight Hercules, BlackMonoqueiroz, Ultimate-Monoqueiroz
Appearances:
Battle Spirits Shounen Toppa Bashin
Gallery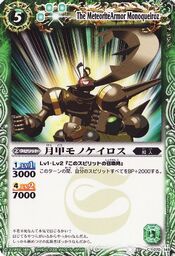 Community content is available under
CC-BY-SA
unless otherwise noted.