The MagicStoneDragonKnight Zackson
魔石の竜騎士ザクソン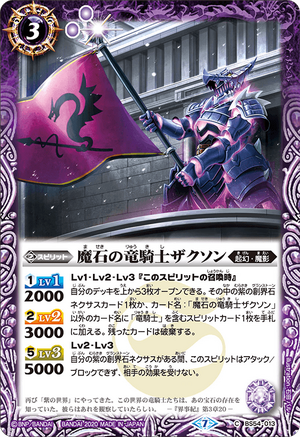 Kanji (漢字)
魔石の竜騎士ザクソン
Card Type
Spirit
Color
Purple
Cost
3
Reductions
Symbols
Families
Primal, Evil Shadow
Levels
Level 1: 1 core, 2000 BP
Level 2: 2 cores, 3000 BP
Level 3: 5 cores, 5000 BP
Card Effects
[LV1][LV2][LV3] (When Summoned)
You can reveal three cards from your decktop. Among them, add a Purple Grandstone Nexus card, or a "DragonKnight"-named Spirit card, besides "The MagicStoneDragonKnight Zackson", to the Hand. Discard any remaining cards.

[LV2][LV3]
While you control a Purple Grandstone Nexus, this Spirit can't attack/block, and is unaffected by opposing effects.
Card Effects (JP/日本語)
Lv1・Lv2・Lv3『このスピリットの召喚時』
自分のデッキを上から3枚オープンできる。その中の紫の創界石ネクサスカード1枚か、カード名:「魔石の竜騎士ザクソン」以外のカード名に「竜騎士」を含むスピリットカード1枚を手札に加える。残ったカードは破棄する。

Lv2・Lv3
自分の紫の創界石ネクサスがある間、このスピリットはアタック/ブロックできず、相手の効果を受けない。
Sets
BS54 (Block icon 7 - Common)
Illust:

Ishida Val

EN Flavor:


We've once again come to the "Purple World". The Dragon Knights in this world knew about the the existence of such gems. And seemingly, they have been observing it.
―"Record of Worldly Matters" Volume 3:20―

JP Flavor:


再び「紫の世界」にやってきた。この世界の竜騎士たちは、あの宝石の存在を知っていた。彼らはあれを観察していたらしい。
―『界事紀』第3章20―

PB14 (Block icon 7 - Common)
Illust:

Ishida Val

EN Flavor:


We've once again come to the "Purple World". The Dragon Knights in this world knew about the the existence of such gems. And seemingly, they have been observing it.
―"Record of Worldly Matters" Volume 3:20―

JP Flavor:


再び「紫の世界」にやってきた。この世界の竜騎士たちは、あの宝石の存在を知っていた。彼らはあれを観察していたらしい。
―『界事紀』第3章20―