The Inviolable Sanctuary

侵されざる聖域

Name
The Inviolable Sanctuary
Kanji/Kana
侵されざる聖域
Released in (Japanese)
BS04, BSC06, SD09, SD32
Released in (English)
BS04- Ascension of Dragons
Color
White
Cost
3
Reduction
Symbols
Levels
Level 1: 0 core
Level 2: 2 core
Description

English
[LV1][LV2] (Permanent) Spirits you control with a cost of 8 or more get Immunity: Purple, Green, White, Yellow and Blue.

[LV2] (Permanent) No more than 5 cards can be moved from the top of your Deck to your Trash each turn due to the effects of cards your opponent controls.

Flavor Text

English/Japanese
The crystal goddess confined herself in this sanctuary. She created a powerful and beautiful barrier to amplify the power of her songs and defend against the invaders.
-from the Places of Interest 660/1000 of "Record of the Strange World" by Wanderer Lolo"-

Rarity
Common
Illustration
Mila Aizawa
Rulings/Restrictions
This card is limited to 1 per deck in Japan.
Gallery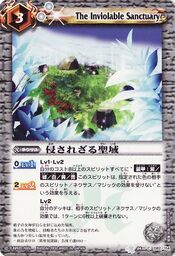 Community content is available under
CC-BY-SA
unless otherwise noted.