New Pokemon Games - The Loop
Play Sound
The HieroglyphWarMachine Rebellion-Nehejet
聖刻戦機リベリオン・ネヘジェト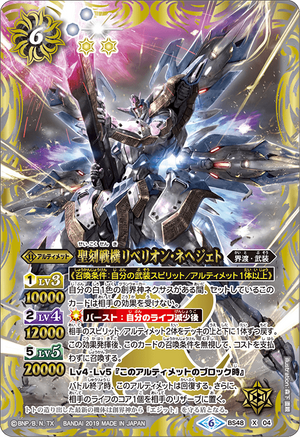 Kanji (漢字)
聖刻戦機リベリオン・ネヘジェト
Card Type
Ultimate
Color
White
Cost
6
Reductions
Symbols
Families
Worldswalker, Armed Machine
Keywords
Burst
Levels
Level 3: 1 core, 10000 BP
Level 4: 2 cores, 12000 BP
Level 5: 5 cores, 20000 BP
Card Effects
[Summon Condition: You control one or more Armed Machine Spirit/Ultimate]



While you control any White-only Grandwalker Nexus, this set card is unaffected by opposing effects.



[ Burst: After your Life decreases ]
Return two opposing Spirits/Ultimates to the deck, one to the top and one to the bottom. After this effect resolves, summon this card, ignoring the summon condition and without paying the cost.

[LV4][LV5] (When Blocks)
At the end of battle, refresh this Ultimate. Also, send an opposing Life to the Reserve.
Card Effects (JP/日本語)
【召喚条件:自分の武装スピリット/アルティメット1体以上】

自分の白1色の創界神ネクサスがある間、セットしているこのカードは相手の効果を受けない。

【バースト:自分のライフ減少後】
相手のスピリット/アルティメット2体をデッキの上と下に1体ずつ戻す。この効果発揮後、このカードの召喚条件を無視して、コストを支払わずに召喚する。

Lv4・Lv5『このアルティメットのブロック時』
バトル終了時、このアルティメットは回復する。さらに、相手のライフのコア1個をリザーブに置く。
Sets
BS48 (Block icon 6 - X-Rare)
Illust:

Morishita Naochika

EN Flavor:


Thoth's most recent creation is a machine that will become the shield to protect Egyt from the Grandwalkers.

JP Flavor:


トトの造り出した最新の機体は創界神から「エジット」を守る盾となる。

BSC38 (Block icon 8 - X-Rare)
Illust:

Morishita Naochika

EN Flavor:


Thoth's most recent creation is a machine that will become the shield to protect Egyt from the Grandwalkers.

JP Flavor:


トトの造り出した最新の機体は創界神から「エジット」を守る盾となる。
Gallery