Raise a Floppa - The Loop
Play Sound
The HeavenlyKingBird Strelitzia
天王鳥ストレリチア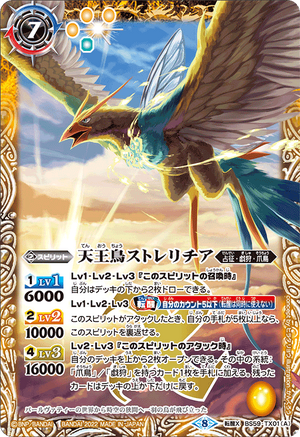 Card Effects
[LV1][LV2][LV3] (When Summoned)
You can draw two cards from the deckbottom.

[LV1][LV2][LV3] Rebirth: 5 or less Counters (Only one Rebirth can be used at a time)
When this Spirit attacks, if your Hand is five or more, it can be flipped.

[LV2][LV3] (When Attacks)
You can reveal two cards from your decktop. Among them, add a "Winged Beast"/"Hunter Beast" family card to the Hand. Return any remaining cards to either only the decktop or only the deckbottom.
Card Effects (JP/日本語)
Lv1・Lv2・Lv3『このスピリットの召喚時』
自分はデッキの下から2枚ドローできる。
Lv1・Lv2・Lv3《転醒:自分のカウント5以下(転醒は同時に使えない)》
このスピリットがアタックしたとき、自分の手札が5枚以上なら、このスピリットを裏返せる。


Lv2・Lv3『このスピリットのアタック時』
自分のデッキを上から2枚オープンできる。その中の系統:「爪鳥」/「戯狩」を持つカード1枚を手札に加える。残ったカードはデッキの上か下だけに戻す。
Sets
BS59 (Block icon 8 - Rebirth X-Rare)
Illust:

Hirata Ryou (Concept), Kankurou (Art)

EN Flavor:


A single bird set off from Parvati's world into the Gaps of Time.

JP Flavor:


パールヴァティーの世界から時空の狭間へ一羽の鳥が飛び立った