The Heart-Buster Huge Slope

心臓破りの巨大坂

Name
The Heart-Buster Huge Slope
Kanji/Kana
心臓破りの巨大坂
Released in (Japanese)
BS04, BSC14
Released in (English)
BS04- Ascension of Dragons
Color
Blue
Cost
3
Reduction
Symbols
Levels
Level 1: 0 core
Level 2: 2 core
Description

English
[LV1][LV2] (Opponent's Start Step) Move the top card of your opponent's Deck to their Trash.

[LV2] (Permanent) Each time you summon a spirit with no printed effects, it is treated as being at the highest LV until end of turn.

Flavor Text

English/Japanese
In the East country, every entrant for the competition climbs this huge slope. This tradition is not really for training but for good luck.
-from the Places of Interest 991/1000 of "Record of the Strange World" by Wanderer Lolo"-

Rarity
Common
Illustration
Midori Harada
Rulings/Restrictions
None
Trivia:
Related to: The CatLady Abyssinia
Appearances:
Battle Spirits Saikyo Ginga Ultimate Zero
Gallery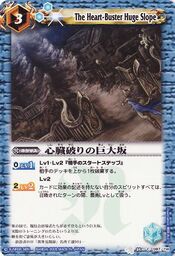 Community content is available under
CC-BY-SA
unless otherwise noted.