New Pokemon Games - The Loop
Play Sound
The FlashingDragonKnightChief Jean-Valjean
飛電の竜騎士長ジャンヴァルジャン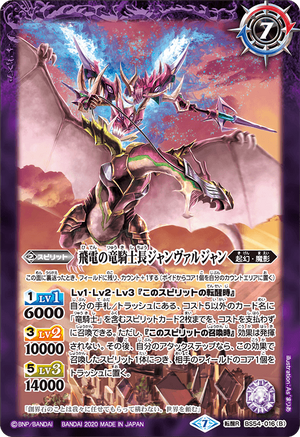 Kanji (漢字)
飛電の竜騎士長ジャンヴァルジャン
Card Type
Spirit
Color
Purple
Cost
7
Symbols
Families
Primal, Evil Shadow
Levels
Level 1: 1 core, 6000 BP
Level 2: 3 cores, 10000 BP
Level 3: 5 cores, 14000 BP
Card Effects
When you flip into this side, this card remains on the Field, and you gain a counter. (Put a core from the Void to your Counter Area.)

[LV1][LV2][LV3] (When Reborn)
You can summon up to two non-Cost 5 "DragonKnight"-named Spirit cards from the Hand/Trash, without paying the cost. However, the (When Summoned) effects of Spirits can't activate. Then, if it is your Attack Step, for each Spirit summoned by this effect, send a core from the opposing Field to the Trash.
Card Effects (JP/日本語)
この面に裏返ったとき、フィールドに残り、カウント+1する(ボイドからコア1個を自分のカウントエリアに置く)

Lv1・Lv2・Lv3『このスピリットの転醒時』
自分の手札/トラッシュにある、コスト5以外のカード名に「竜騎士」を含むスピリットカード2枚までを、コストを支払わずに召喚できる。ただし、『このスピリットの召喚時』効果は発揮されない。その後、自分のアタックステップなら、この効果で召喚したスピリット1体につき、相手のフィールドのコア1個をトラッシュに置く。
Sets
BS54 (Block icon 7 - Rebirth Rare)
Illust:

As' Maria

EN Flavor:


"No worries. Leave the matter of Grandstone to us. For the matter of the world, we would count on you!"

JP Flavor:


「創界石のことは我々に任せてもらって構わない。世界を頼む」

PB14 (Block icon 7 - Rebirth Rare)
Illust:

As' Maria

EN Flavor:


"No worries. Leave the matter of Grandstone to us. For the matter of the world, we would count on you!"

JP Flavor:


「創界石のことは我々に任せてもらって構わない。世界を頼む」