New Pokemon Games - The Loop
Play Sound
The DragonMaskOgre Biranba
龍面鬼ビランバ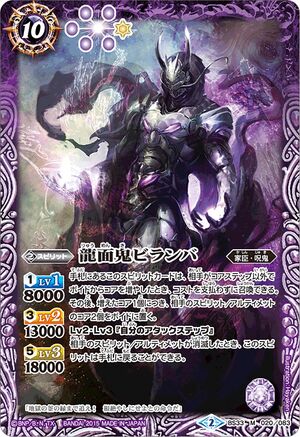 Kanji (漢字)
龍面鬼ビランバ
Card Type
Spirit
Color
Purple
Cost
10
Reductions
Symbols
Families
Vassal, Ogre Wizard
Levels
Level 1: 1 core, 8000 BP
Level 2: 3 cores, 13000 BP
Level 3: 5 cores, 18000 BP
Card Effects
This card in Hand can be summoned without paying the cost when the opponent increases cores from the Void outside of Core Step. When you have done so, for each core increased, send two cores from any opposing Spirits/Ultimates to the Void.

[LV2][LV3] (Your Attack Step)
When opposing Spirits/Ultimates are depleted, you can return this Spirit to the Hand.
Card Effects (JP/日本語)
手札にあるこのカードは、相手がコアステップ以外でボイドからコアを増やしたとき、コストを支払わずに召喚できる。そうしたとき、増えたコア1個につき、相手のスピリット/アルティメットのコア2個をボイドに置く。

Lv2・Lv3『自分のアタックステップ』
相手のスピリット/アルティメットが消滅したとき、このスピリットは手札に戻ることができる。
Sets
BS33 (Block icon 2 - Master Rare)
Illust:

Hayaken

EN Flavor:


"Chase them to the brim of the cauldron of hell! You have been commanded to eradicate them."

JP Flavor:


「地獄の釜の縁まで追え! 根絶やしにせよとの命令だ」

BSC30 (Block icon 4 - Master Rare)
Illust:

Hayaken

EN Flavor:


"Chase them to the brim of the cauldron of hell! You have been commanded to eradicate them."

JP Flavor:


「地獄の釜の縁まで追え! 根絶やしにせよとの命令だ」

BSC38 (Block icon 8 - Master Rare)
Illust:

Hayaken

EN Flavor:


"Chase them to the brim of the cauldron of hell! You have been commanded to eradicate them."

JP Flavor:


「地獄の釜の縁まで追え! 根絶やしにせよとの命令だ」
Gallery