Arcane: League of Legends - The Loop
Play Sound
The DragonKnightEmperor Grand-Dragonic-Arthur
竜騎士皇帝グラン・ドラゴニック・アーサー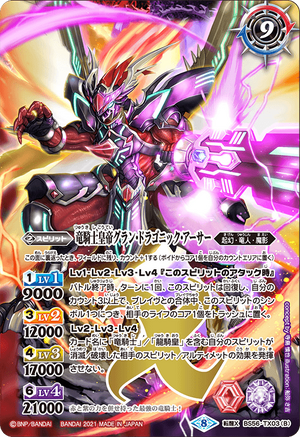 Card Type
Spirit
Color
Red Purple
Cost
9
Symbols
Families
Primal, Dragon, Evil Shadow
Levels
Level 1: 1 core, 9000 BP
Level 2: 3 cores, 12000 BP
Level 3: 4 cores, 17000 BP
Level 4: 6 cores, 21000 BP
Card Effects
When you flip into this side, this card remains on the Field, and you gain a counter. (Put a core from the Void to your Counter Area.)

[LV1][LV2][LV3][LV4] (When Attacks)
At the end of battle, once per turn, refresh this Spirit, and if you have three or more counters and it is braved, for each symbol on this Spirit, send an opposing Life to the Trash.

[LV2][LV3][LV4]
The effects of opposing Spirits/Ultimates depleted/destroyed by your "DragonKnight"/"DragonRideEmperor"-named Spirits do not activate.
Card Effects (JP/日本語)
(この面に裏返ったとき、フィールドに残り、カウント+1する(ボイドからコア1個を自分のカウントエリアに置く)

Lv1・Lv2・Lv3・Lv4『このスピリットのアタック時』
バトル終了時、ターンに1回、このスピリットは回復し、自分のカウント3以上で、ブレイヴとの合体中、このスピリットのシンボル1につき、相手のライフのコア1個をトラッシュに置く。

Lv2・Lv3・Lv4
カード名に「竜騎士」/「龍騎皇」を含む自分のスピリットが消滅/破壊した相手のスピリット/アルティメットの効果は発揮されない。
Sets
BS56 (Block icon 8 - Rebirth X-Rare)
Illust:

Terashima Shinya (Concept), Funaya Sakichi (Art)

EN Flavor:


"The power of red and purple are wielded by the strongest Dragon Knight!"

JP Flavor:


「赤と紫の力を併せ持った最強の竜騎士!」