New Pokemon Games - The Loop
Play Sound
The DragonHero Sieg-Yamato-Fried
龍の覇王ジーク・ヤマト・フリード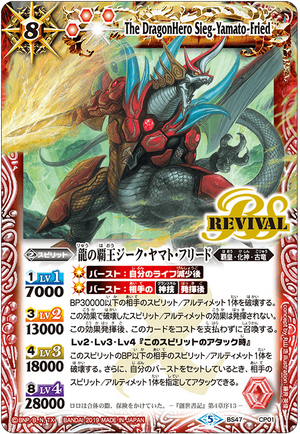 Kanji (漢字)
龍の覇王ジーク・ヤマト・フリード
Card Type
Spirit
Color
Red
Cost
8
Reductions
Symbols
Families
Supreme Hero, Avatar, Ancient Dragon
Keywords
Burst
Levels
Level 1: 1 core, 7000 BP
Level 2: 3 cores, 13000 BP
Level 3: 4 cores, 18000 BP
Level 4: 8 cores, 28000 BP
Card Effects

[ Burst: After Your Life Decreases ]

[ Burst: After an opposing Grand Skill resolves ]
Destroy an opposing 30000 BP or less Spirit/Ultimate. Effects of the destroyed Spirit/Ultimate cannot activate. After this effect resolves, summon this card without paying the cost.

[LV2][LV3][LV4] (When Attacks)
Destroy an opposing Spirit/Ultimate with BP equal or inferior to this Spirit's. Also, if you have a Burst set, you can target and attack any opposing Spirit/Ultimate.
Card Effects (JP/日本語)
【バースト:自分のライフ減少後】
【バースト:相手の【神技】発揮後】
BP30000以下の相手のスピリット/アルティメット1体を破壊し、破壊したスピリット/アルティメットの効果を発揮させない。この効果発揮後、このカードをコストを支払わずに召喚する。

Lv2・Lv3・Lv4 『このスピリットのアタック時』
このスピリットのBP以下の相手のスピリット/アルティメット1体を破壊する。さらに、自分のバーストをセットしているとき、相手のスピリット/アルティメット1体を指定してアタックできる。
Sets
BS47 (Block icon 5 - Campaign Promo)
Illust:

Maruyama Hiroshi (Concept), Fujii Eishun (Art)

EN Flavor:


"When carrying out the fusion, Lolo had prepared a back-up plan."
-"Genesis Records" Volume Four Prologue-

JP Flavor:


ロロは合体の際、保険をかけていた。
―『創世書記』第4章序13―

BS50 (Block icon 5 - Campaign Promo)
Illust:

Maruyama Hiroshi (Concept), Fujii Eishun (Art)

EN Flavor:


"When carrying out the fusion, Lolo had prepared a back-up plan."
-"Genesis Records" Volume Four Prologue-

JP Flavor:


ロロは合体の際、保険をかけていた。
―『創世書記』第4章序13―

SD56 (Block icon 7 - X-Rare)
Illust:

Maruyama Hiroshi (Concept), Fujii Eishun (Art)

EN Flavor:


"When carrying out the fusion, Lolo had prepared a back-up plan."
-"Genesis Records" Volume Four Prologue-

JP Flavor:


ロロは合体の際、保険をかけていた。
―『創世書記』第4章序13―

BSC38 (Block icon 8 - X-Rare)
Illust:

Maruyama Hiroshi (Concept), Fujii Eishun (Art)

EN Flavor:


"When carrying out the fusion, Lolo had prepared a back-up plan."
-"Genesis Records" Volume Four Prologue-

JP Flavor:


ロロは合体の際、保険をかけていた。
―『創世書記』第4章序13―
Gallery