The Diamond Moon

ダイヤモンドの月

Name
The Diamond Moon
Kanji/Kana
ダイヤモンドの月
Released in (Japanese)
BS01, Kerokero Starter, BSC22
Released in (English)
BS01- Call of the Core
Color
White
Cost
5
Reduction
Symbols
Levels
Level 1: 0 core
Level 2: 3 core
Description

English

[LV1][LV2] (During the Battle Phase) Each time a spirit you control battles a red spirit, that spirit you control gets +1000 BP until end of turn.

[LV2] (During the Battle Phase) Each time a red spirit your opponent controls battles a spirit you control, the red spirit is destroyed at end of battle.

[LV1][LV2] (Either Attack Step) When blocked by opposing Red/Purple Spirits, or when blocking an opposing Spirit, your Spirits get +3000 BP.

[LV2] (Either Attack Step) Destroy a Red/Purple opposing Spirit that battled with your Spirit at the end of the battle.

Japanese

Lv1・Lv2『お互いのアタックステップ』相手の赤のスピリットにブロックされた、または相手のスピリットをブロックした自分のスピリットすべてをBP+1000する。

Lv2『お互いのアタックステップ』自分のスピリットをアタックかブロックした相手の赤のスピリットは、バトル終了時に破壊される。

Lv1・Lv2『お互いのアタックステップ』相手の赤か紫のスピリットにブロックされた、または、相手のスピリットをブロックした自分のスピリットすべてをBP+3000する。

Lv2『お互いのアタックステップ』自分のスピリットとバトルした相手の赤か紫のスピリットを、バトル終了時に破壊する。

Flavor Text

English/Japanese
The other moon that can partially be seen from the gate of distortion. It gives off cold lights as it takes the lives of all the living things.
-From the Places of Interest 612/1000 of "Record of the Strange World" by Wanderer Lolo"-

Japanese
歪みの門よりときおり垣間見えるもう一つの月。

生命持つ力を停止させるかのごとき冷たい光。 ―放浪者ロロ「異界見聞録」名所千選612―

Rarity
Common
Illustration
N/A
Rulings/Restrictions
The English version incorrectly states that the opposing spirit is destroyed at the end of turn; it should be the end of battle.
Trivia:
Related to: The Ruby Sun
Appearances:
Battle Spirits Shounen Toppa Bashin
Gallery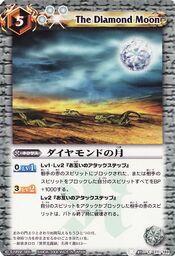 Community content is available under
CC-BY-SA
unless otherwise noted.