New Pokemon Games - The Loop
Play Sound
The DarkKnight Gawain
闇騎士ガウェイン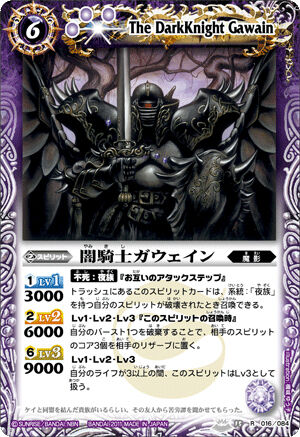 Kanji (漢字)
闇騎士ガウェイン
Card Type
Spirit
Color
Purple
Cost
6
Reductions
Symbols
Families
Evil Shadow
Keywords
Immortality
Levels
Level 1: 1 core, 3000 BP
Level 2: 2 cores, 6000 BP
Level 3: 6 cores, 9000 BP
Card Effects
Immortality: Nightling (Either Attack Step)
You can summon this Spirit card from the Trash when your "Nightling" family Spirit is destroyed.

[LV1][LV2][LV3] (When Summoned)
By discarding one of your Burst, send three cores from any opposing Spirits to the Reserve.

[LV1][LV2][LV3]
While your Life is at three or more, this Spirit is treated as on [LV3].
Card Effects (JP/日本語)
【不死:夜族】『お互いのアタックステップ』
トラッシュにあるこのスピリットカードは、系統:「夜族」を持つ自分のスピリットが破壊されたとき召喚できる。

Lv1・Lv2・Lv3『このスピリットの召喚時』
自分のバースト1つを破棄することで、相手のスピリットのコア3個を相手のリザーブに置く。

Lv1・Lv2・Lv3
自分のライフが3以上の間、このスピリットはLv3として扱う。
Sets
BS15 (Rare)
Illust:

Tsukishiro Yuuko

EN Flavor:


There appears to be a noble who has made an alliance with Kei. I was told troubling stories by that friend.

JP Flavor:


ケイと同盟を結んだ貴族がいるらしい。その友人から苦労譚を聞かせてもらった。