The Burning Canyon

灼熱の谷

Name
The Burning Canyon
Kanji/Kana
灼熱の谷
Name (Italian)
Canyon Ardente
Released in (Japanese)
BS06, SD04, SD09, SD25, Galaxy Watanabe Presents: I Love Battle Spirits Special Deck & Drama Set 2
Released in (English)
BS05- Dawn of the Ancients
Released in (Italian)
SE01
Color
Red
Cost
3
Reduction
Symbols
Levels
Level 1: 0 core
Level 2: 1 core
Description

English
[LV1][LV2] (Your Draw Step) Draw 1 card. Then, discard 1 card.

[LV2] (During Your Battle Phase) Spirits you control get +1000BP.

Italian
[LV1] (Tua Sottofase di Acquisizione) Pesca 1 carta. Quindi, scarta 1 carta.

[LV2] (Durante la Tua Fase di Battaglia) Gli spirit che controlli prendono +1000PB.

Flavor Text

English/Japanese
This canyon was newly created when a deity descended from the Empty Sky. As it is a totally new landscape, you might be able to make new discoveries.
-from the Places of Interest 513/1000 of "Record of the Strange World" by Wanderer Lolo"-

Italian
Questo canyon è stato creato recentemente quando una divinità discesa dal Cielo Vuoto. Trattandosi di un paesaggio completamente nuovo, si potrebbero fare delle nuove scoperte.

- da "Luoghi di Interesse 513/1000" in "Memorie dello Strano Mondo" di Lolo il Vagabondo -

Rarity
Common
Illustration
Yuuya Kobayashi
Rulings/Restrictions
This card is limited to 1 per deck in Japan.
Triva
Related to: The Burning Battlefield, The Canyon Where Sage lives
Gallery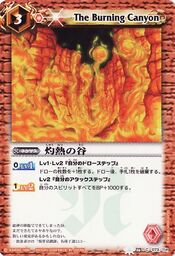 Community content is available under
CC-BY-SA
unless otherwise noted.