New Pokemon Games - The Loop
Play Sound
The BeastArmoredMobile Wolven-Berger -Huma Mode-
獣装機動ウルフェン・ベルガー -ヒューマモード-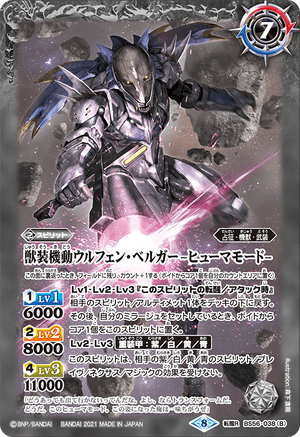 Card Effects
When you flip into this side, this card remains on the Field, and you gain a counter. (Put a core from the Void to your Counter Area.)

[LV1][LV2][LV3] (When Reborn/Attacks)
Return an opposing Spirit/Ultimate to the deckbottom. Then, while you have a Mirage set, put a core from the Void to this Spirit.

[LV2][LV3] Heavy Armor: Purple/White/Yellow/Blue
This Spirit is unaffected by opposing Purple/White/Yellow/Blue Spirit/Brave/Nexus/Magic effects.
Card Effects (JP/日本語)
この面に裏返ったとき、フィールドに残り、カウント+1する(ボイドからコア1個を自分のカウントエリアに置く)

[Lv1-Lv2-Lv3]『このスピリットの転醒/アタック時』
相手のスピリット/アルティメット1体をデッキの下に戻す。その後、自分のミラージュをセットしているとき、ボイドからコア1個をこのスピリットに置く。

[Lv2-Lv3]【重装甲:紫/白/黄/青】
このスピリットは、相手の紫/白/黄/青のスピリット/ブレイヴ/ネクサス/マジックの効果を受けない。
Sets
BS56 (Block icon 8 - Rebirth Rare)
Illust:

Morishita Naochika

EN Flavor:


"Not leaving no matter what huh. Ok then, let's transform. How is it, this Huma-mode! I won't be the same when I've turned into this form!"

JP Flavor:


「どうあっても出て行かないってんだな。よし、ならトランスフォームだ。どうだ、このヒューマモード。この姿になった俺は一味ちがうぜ」