The Artifact Laguna

機人ラグーナ

Name
The Artifact Laguna
Kanji/Kana
機人ラグーナ
Released in (Japanese)
BS01, BSC02
Released in (English)
BS01- Call of the Core
Color
White
Cost
5
Reduction
Symbols
Family
Android
Levels
Level 1: 1 core, 6000 BP
Level 2: 2 core, 7000 BP
Description

English

[LV2] (Permanent) All white spirits you control get +1000 BP.

[LV2] All your White Spirits get +5000 BP.

Japanese

Lv2自分の白のスピリットすべてをBP+1000する。

Lv2自分の白のスピリットすべてをBP+5000する。

Flavor Text

English/Japanese
The united intruders who are good at tactics. Taking the leader is the first thing you need to do to win.

Japanese
統率されし侵略者たち。

張り巡らされし戦術の網。 戦いは指揮者を撃つことから始めねばならぬ。

Rarity
Common
Illustration
Atsushi Takeuchi (concept)
Rulings/Restrictions
None
Trivia:
Related to: The Artifact Asc, The Artifact Embla, The Artifact Droiden, The Artifact Vellnd, The Artifact Fjalar, The Artifact Galar, The Artifact Forseti, Flame Dance
Appearances:
Battle Spirits Shounen Toppa Bashin
Gallery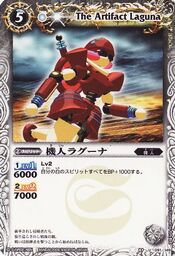 Community content is available under
CC-BY-SA
unless otherwise noted.