The Angelia Kleio

天使クレイオ

Name
The Angelia Kleio
Kanji/Kana
天使クレイオ
Name (Italian)
Angelia Kleio
Released in (Japanese)
BS05, BSC06, BSC09, SD15, Galaxy Watanabe Presents: I Love Battle Spirits Special Deck & Drama Set 2
Released in (English)
BS04- Ascension of Dragons
Released in (Italian)
SE01
Color
Yellow
Cost
2
Reduction
Symbols
Family
Divine Spirit
Levels
Level 1: 1 core, 2000 BP
Level 2: 3 core, 3000 BP
Level 3: 4 core, 4000 BP
Description

English
[LV1][LV2][LV3] (During the Battle Phase) Each time 1 or more spirits you control with a cost of 2 are destroyed, draw 1 card.

Japanese
Lv1・Lv2・Lv3 『お互いのアタックステップ』

コスト2の自分のスピリットが破壊されたとき、自分はデッキから1枚ドローする。

Flavor Text

English/Japanese
I am not going to trust her! A girl like her has many ways to deceive people.

Japanese
あたしはぜーったいダマされないわよ!あの手のタイプはいろんなテクを隠し持ってるんだから。

Rarity
Common
Illustration
Kyorin Takanae
Rulings/Restrictions
None
Trivia:
Related to: The Angelia Angu, The Angelia Virchu, The Angelia Curio, The Angelia Archre, The Angelia Throne, The Angelia Dunamis, The Angelia Cherubim, The Angelia Olifia, The Angelia Salaty, The Angelia Power, The Angelia Tiael, The Angelia of Olimpics Phul, The Angelia of Olimpics Bethor, The Angelia of Olimpics Phaleg, The Angelia of Olimpics Och, The Angelia of Olimpics Hagith, The Angelia Dominia, The TwinAngelia Melodiel, The Angelia of Grimm Hansel, The Angelia of Grimm Gretel, Ultimate-Kleio
Gallery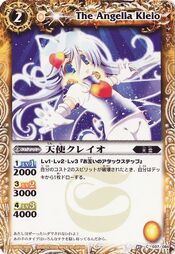 Community content is available under
CC-BY-SA
unless otherwise noted.