Statistics:
Name: The Acrobat Juggline
(ナイフ投げのジャグリーン)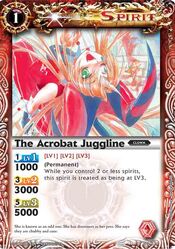 Released in (Japanese): BS02, Shounen Gekiha Card Battlers Pack Double
Released in (English): BS02- Rise of Angels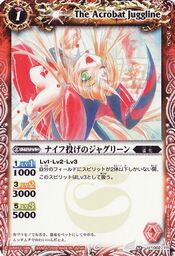 Color: Red
Cost: 1
Reduction: 0
Symbols: 1
Family: Clown
Level 1: 1 core, 1000 BP
Level 2: 3 core, 3000 BP
Level 3: 5 core, 5000 BP
Effect:
[LV1][LV2][LV3] [Permanent] While you control 2 or less spirits, this spirit is treated as being at LV3.
Flavor Text: She is known as an odd one. She has dinosaurs as her pets. She says they are chubby and cute.
Rulings/Restrictions: None