(4 intermediate revisions by 2 users not shown)
Line 1:
Line 1:
 
+

[[File:Rokceratops 1.jpg|thumb]]

−

Terra Dragon (''地竜; chiryu'') is a family in the Battle Spirits trading card game. [[File:Darkdinony1.jpg|thumb]]

 
 
+

'''Terra Dragon''' (地竜; ''chiryu'') is a family premiered in [[BS01]]. It exists in all card types except Magic cards, and contains all six colors, but is mainly Red. While in English it is translated as "dragon", the family actually represents Spirits with the theme of dinosaurs. In general, cards in this family carry a lot of Nexus destruction effects.

 
 
 
+

In the Sword Eyes era, Terra Dragon is the main family carried by Dark Red Spirits and Braves. They also focused on the [[Rush]] keyword, usually pairing up with the Green color. In the Advent era, the family is owned by the group Dinosaur Alliance, which was an army on the side of the [[Vanity Deity|Vanity Deities]]. This group focused on the [[Advent]] keyword, and encouraged stacking pre-advent cards. In the Ultra Advent era, the family was paired with the [[Ocean Emperor]] family to support [[The Grandwalker Susanoo]]. This deck also caused the increase of Blue Terra Dragon Spirits. Later on, they also singly supported [[The Grandwalker Anubis]]. However, the more common play style was to put both Susanoo and Anubis together to form a general Terra Dragon deck.

−

It premiered in BS01. All Terra Dragon spirits are red. Despite being called "dragons," they're actually dinosaur-themed.

 
 
 
 
+

On the collaboration side, the family is also applied to characters with the dinosaur motif, including the [[Agumon]] evolution line from the Digimon series, Zetton from the Ultraman franchise, and Shin-Godzilla from the Godzilla series.

−

Terra Dragons may have [[Rush]].

 
 

==Also see:==

 

==Also see:==

 
+
−

[[:Category:Terra Dragons|List of Terra Dragons]]

+

[[:Category:Terra |List of Terra Dragons]]

 
+

{{Familynav}}

 
+

[[Category:Family]]
---
Latest revision as of 07:57, 28 April 2021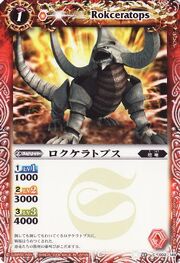 Terra Dragon (地竜; chiryu) is a family premiered in BS01. It exists in all card types except Magic cards, and contains all six colors, but is mainly Red. While in English it is translated as "dragon", the family actually represents Spirits with the theme of dinosaurs. In general, cards in this family carry a lot of Nexus destruction effects.
In the Sword Eyes era, Terra Dragon is the main family carried by Dark Red Spirits and Braves. They also focused on the Rush keyword, usually pairing up with the Green color. In the Advent era, the family is owned by the group Dinosaur Alliance, which was an army on the side of the Vanity Deities. This group focused on the Advent keyword, and encouraged stacking pre-advent cards. In the Ultra Advent era, the family was paired with the Ocean Emperor family to support The Grandwalker Susanoo. This deck also caused the increase of Blue Terra Dragon Spirits. Later on, they also singly supported The Grandwalker Anubis. However, the more common play style was to put both Susanoo and Anubis together to form a general Terra Dragon deck.
On the collaboration side, the family is also applied to characters with the dinosaur motif, including the Agumon evolution line from the Digimon series, Zetton from the Ultraman franchise, and Shin-Godzilla from the Godzilla series.
Also see: