Taurusknight

タウロスナイト

Name
Taurusknight
Kanji/Kana
タウロスナイト
Released in (Japanese)
BS01, BSC02, Kerokero Starter
Released in (English)
BS01- Call of the Core
Color
Red
Cost
4
Reduction
Symbols
Family
Mounted Warrior
Ability
Evolution (Awaken)
Levels
Level 1: 1 core, 3000 BP
Level 2: 3 core, 5000 BP
Level 3: 6 core, 9000 BP
Description

English
[LV1][LV2][LV3] Evolution (Flash Step) You may move any number of cores from spirits you control to this spirit.

Japanese
Lv1・Lv2・Lv3:フラッシュ【覚醒】 自分のスピリット上から、コアを好きなだけこのスピリット上に置くことができる。

Flavor Text

English/Japanese
They say that this supporter is capricious and only money can draw out his real power.

Japanese
その助っ人は気まぐれで、

金さえ出せば本気になると評判だ。

Rarity
Common
Illustration
Hiroshi Maruyama(concept)
Rulings/Restrictions
None
Appearances:
Battle Spirits Shounen Toppa Bashin
Gallery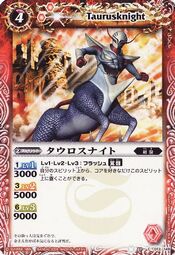 Community content is available under
CC-BY-SA
unless otherwise noted.