Swallowivy

スワロウアイヴィー

Name
Swallowivy
Kanji/Kana
スワロウアイヴィー
Released in (Japanese)
BS01, BSC22
Released in (English)
BS01- Call of the Core
Color
Green
Cost
5
Reduction
Symbols
Family
Song Bird
Levels
Level 1: 1 core, 3000 BP
Level 2: 3 core, 6000 BP
Description

English

[LV1][LV2] (When Summoned) Reveal the top 5 cards of your Deck. If there are 1 or more nexus cards among them, move 1 of them to your hand. Return the rest to the bottom of your Deck in any order.

[LV1][LV2] (When Summoned) You can reveal 5 cards from the decktop. Add a Green Spirit/Nexus card among them to your Hand. Remaining cards are returned to the deckbottom, in any order.

Japanese

Lv1・Lv2『このスピリットの召喚時』自分のデッキを上から5枚オープンする。ネクサスカードがあれば、その中から1枚を選び、手札に加える。残ったカードは好きな順番でデッキの下に戻す。

Lv1・Lv2『このスピリットの召喚時』自分のデッキを上から5枚オープンできる。その中の緑のスピリットカードかネクサスカード1枚を手札に加える。残ったカードは好きな順番でデッキの下に戻す。

Flavor Text

English/Japanese
When people have trouble finding food, they always helps them. They're the friends of the Elder.

Japanese
食べ物が見つからなくて困ってると、

あの子が助けてくれるんだ。 長老様の友達なんだ。

Rarity
Uncommon
Illustration
Shinnosuke Hino
Rulings/Restrictions
The official English version mistakenly says to place the cards to the top of the deck. However, all remaining cards are placed to the bottom of the deck.
Gallery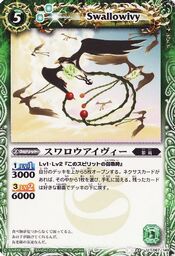 Community content is available under
CC-BY-SA
unless otherwise noted.