New Pokemon Games - The Loop
Play Sound
Shiva's Destruction Temple
シヴァの破壊神殿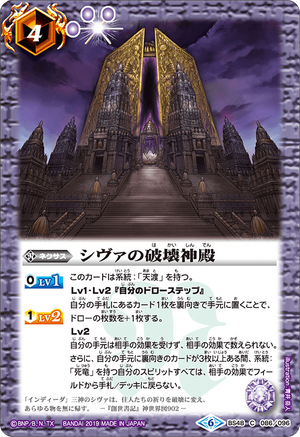 Kanji (漢字)
シヴァの破壊神殿
Card Type
Nexus
Color
Purple
Cost
4
Reductions
Symbols
Levels
Level 1: 0 cores
Level 2: 1 core
Card Effects
This card has the "Celeste" family.

[LV1][LV2] (Your Draw Step)
By putting a card from your Hand facedown onto the Removed Zone, increase the amount of cards you draw by +1.

[LV2]
Your Removed Zone is unaffected by opposing effects, and opposing effects cannot include it when counting. Also, while your Removed Zone has three or more facedown cards, "Death Dragon" family Spirits you control cannot be returned to the hand/deck by opposing effects.
Card Effects (JP/日本語)
このカードは系統:「天渡」を持つ。

Lv1・Lv2『自分のドローステップ』
自分の手札にあるカード1枚を裏向きで手元に置くことで、ドローの枚数を+1枚する。

Lv2
自分の手元は相手の効果を受けず、相手の効果で数えられない。さらに、自分の手元に裏向きのカードが3枚以上ある間、系統:「死竜」を持つ自分のスピリットすべては、相手の効果でフィールドから手札/デッキに戻らない。
Sets
BS48 (Block icon 6 - Common)
Illust:

Aoi Takehito

EN Flavor:


Shiva, one of the Tri-deity of Hindida, turns his people's prayers into destruction, and returns all creation to nothingness.
―"Genesis Records" Divine World Map 902―

JP Flavor:


「インディーダ」三神のシヴァは、住人たちの祈りを破壊に変え、あらゆる物を無に帰す。
―『創世書記』神世界図902―

BSC38 (Block icon 8 - Common)
Illust:

Aoi Takehito

EN Flavor:


Shiva, one of the Tri-deity of Hindida, turns his people's prayers into destruction, and returns all creation to nothingness.
―"Genesis Records" Divine World Map 902―

JP Flavor:


「インディーダ」三神のシヴァは、住人たちの祈りを破壊に変え、あらゆる物を無に帰す。
―『創世書記』神世界図902―
Gallery