Shidafukurou

シダフクロウ

Name
Shidafukurou
Kanji/Kana
シダフクロウ
Released in (Japanese)
BS01, BSC02, BSC06, BSC22
Released in (English)
BS01- Call of the Core
Color
Green
Cost
3
Reduction
Symbols
Family
Winged Beast
Levels
Level 1: 1 core, 3000 BP
Level 2: 4 core, 5000 BP
Description

Japanese

Lv1・Lv2このスピリットは、相手がデッキからカードをドローするとき回復する。

Lv1・Lv2相手がドローしたとき、このスピリットは回復する。このスピリットに[ソウルコア]が置かれているとき、さらに、相手のスピリット1体を疲労させる。

Flavor Text

English/Japanese
Once you inhale the pollen of the World Tree, you will start sprinkling the pollen yourself. It's really a bother, don't you think?

Japanese
世界樹の花粉を浴びた連中はみんな、自分でも胞子をまくようになっちゃうんだ。迷惑な話だよ。

Rarity
Common
Illustration
Kiraku
Rulings/Restrictions
None
Trivia:
A holographic English version of this card, autographed by Michael Elliott, could be acquired by mailing in 32 set 1 wrappers.
Appearances:
Battle Spirits Shounen Toppa Bashin
Gallery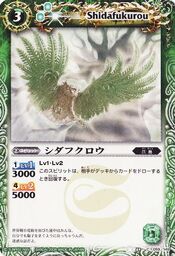 Community content is available under
CC-BY-SA
unless otherwise noted.