Introduction
The Battle Spirits Premium Heroines BOX (バトルスピリッツ プレミアムヘロインズBOX) was the release in a series of promotional premium items. This box is based on the Saikyo Ginga Ultimate Zero Battle Spirits anime series, and the "Ultimates" card series.

The set includes Zero the Ultimate (Rei's) deck and numerous alternate illustration/signed copies of signature character cards.

The box was available for order on the Premium Bandai Website from November 19, 2014 to January 15, 2015 at the price of 8100 yen.
Contents
The Ultimate Zero Deck (40 Cards) ……the deck used by Rei the number one star in ep 48, 49 of the Saikyo Ginga Ultimate Zero Battle Spirits anime.
Original X Rare CG Cards (6)
Cards with illustrations of the Six forms of Zero (6)
The Ultimate Evolution Cards of Mugen (4)
Best-Friend Card Set (printed with signature of CV)
Special Deck Box
Special Sleeves (50)
Collection Booklet of illustrations by Tetuya Ishikawa and interviews of the honored CVs
Special Ring Binder
Set Images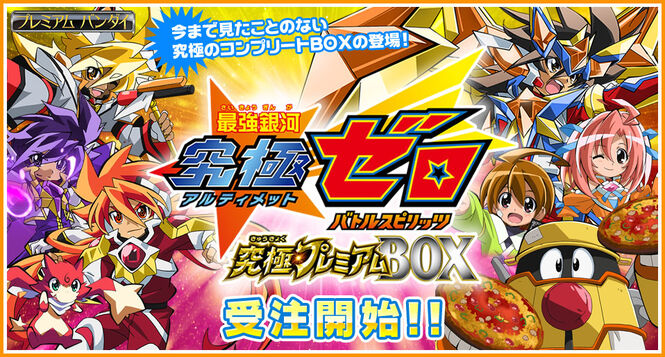 Ultimate Zero's Deck
X-Rare Original CG Cards
Cards with illustrations of the Six Colour Forms of Zero
Mugen Ultimate Evolution Cards
Best Friend Set
Gallery