Saikyo Jump (最強 ジャンプ) is a Japanese monthly manga magazine published by Shueisha. It was announced that the magazine would go bi-monthly after the September 2014 issue.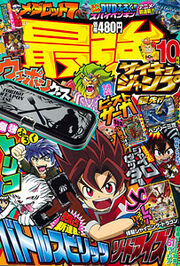 Content
Saikyo Jump, in the same line as the more-known Shonen Jump, serializes many spinoffs to Shonen Jump titles, but also includes some other series. It is currently the only magazine to include Battle Spirits manga.
The following Battle Spirits titles were serialized in this magazine:
-Battle Spirits Heroes (Manga- Jump)
-Battle Spirits Sword Eyes (manga)
-Battle Spirits Saikyo Ginga Ultimate Zero (manga)
-Battle Spirits Burning Soul (manga)
Bonus Gifts
Issues of Saikyo Jump, like many children's manga magazines, include promotional items. Exclusive Battle Spirits cards and other items have been included.