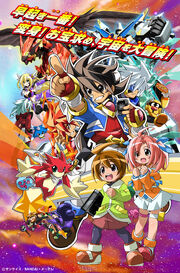 Saikyo Ginga Ultimate Zero Battle Spirits (最強銀河究極(アルティメット)ゼロ~バトルスピリッツ~; Battle Spirits Strongest Galaxy Ultimate Zero) is an anime inspired by Bandai's Battle Spirits trading card game and produced by Sunrise. It is not related to any previous Battle Spirits anime work. It began airing on September 22nd, 2013 at 7:00 AM on TV Asahi's Sunday Morning Kids Block.
It is directed by Masaki Watanabe and composed by Atsuhiro Tomioka. Character designs are provided by Tetsuya Ishikawa.
This series is not currently licensed or dubbed outside of Japan
The series succeeded the previous Battle Spirits Sword Eyes anime.
Plot
Rei is an adventurer called a "Card Quester." He wishes to collect strong cards scattered throughout space, and battle with his rivals unfold. Soon enough, he will discover what happened to his own past. 
Characters
Number One Star Ship Crew
The Guild
Other
Episodes
Music
Opening Theme:
1. "I Wish" (eps 1-25)
Performance: Backdraft Smiths
2. "ZERO" (eps 26-)
Performance: Tatsuyuki Kobayashi
Ending Theme:
1. "Nostalgia" (eps 1-25)
Performance: Kato*Fuku (Emiri Katō and Kaori Fukuhara)
2."Itazura Taiyou" (eps 26-37)
Performance: i☆Ris
3.Endless NOVA (eps 38-)
Performance: AG7
Related Articles