Tags: apiedit, Visual edit

 

(10 intermediate revisions by one other user not shown)
Line 1:
Line 1:
−

'''SD30''', called '''Pigeon Spin Beginning Deck (Inferno Kick-Off)''' is a starter deck in trading card game.It is the basis for the deck of [[Yukimura Rekka]] and [[Sasuke Akatsuki]]. This set contains 30 pieces Blue core, 2 Play sheets, 1 DVD and a Comic Book with Rule Manual. All 48 types of cards: 21 Common, 11 Uncommon, 7 Rares, 5 Master Rares, 4 X-Rares. This set was never released in English.  

+

'''SD30''', called ''' Beginning Deck ( )''' is a starter deck in trading card game.It is the basis for the deck of [[Yukimura Rekka]] and [[Sasuke Akatsuki]]. This set contains 30 pieces Blue core, 2 Play sheets, 1 DVD and a Comic Book with Rule Manual. All 48 types of cards: 21 Common, 11 Uncommon, 7 Rares, 5 Master Rares, 4 X-Rares. This set was never released in English.  

 

[[File:SD30Preview.jpg]]

 

[[File:SD30Preview.jpg]]

 

==Yukimura Deck==

 

==Yukimura Deck==

Line 10:
Line 10:
 

|-

 

|-

 

|SD29-001

 

|SD29-001

 
+

|[[War Lizard]]

−

|

 
 

|{{Red}}

 

|{{Red}}

 
+

|Spirit

−

|

 
 
+

|Common

−

|

 
 

|-

 

|-

 

|SD29-002

 

|SD29-002

 
+

|[[Mushadaryu]]

−

|

 
 

|{{Red}}

 

|{{Red}}

 
+

|Spirit

−

|

 
 
+

|Common

−

|

 
 

|-

 

|-

 

|SD29-003

 

|SD29-003

 
+

|[[OosodePtera]]

−

|

 
 

|{{Red}}

 

|{{Red}}

 
+

|Spirit

−

|

 
 
+

|Common

−

|

 
 

|-

 

|-

 

|SD29-004

 

|SD29-004

 
+

|[[Jinraidragon]]

−

|

 
 

|{{Red}}

 

|{{Red}}

 
+

|Spirit

−

|

 
 
+

|Common

−

|

 
 

|-

 

|-

 

|SD29-005

 

|SD29-005

 
+

|[[Night Sky Dragon]]

−

|

 
 

|{{Red}}

 

|{{Red}}

 
+

|Spirit

−

|

 
 
+

|Common

−

|

 
 

|-

 

|-

 

|SD29-006

 

|SD29-006

 
+

|[[Shippuudragon]]

−

|

 
 

|{{Red}}

 

|{{Red}}

 
+

|Spirit

−

|

 
 
+

|Common

−

|

 
 

|-

 

|-

 

|SD29-007

 

|SD29-007

 
+

|[[Mushadraco]]

−

|

 
 

|{{Red}}

 

|{{Red}}

 
+

|Spirit

−

|

 
 
+

|Common

−

|

 
 

|-

 

|-

 

|SD29-008

 

|SD29-008

 
+

|[[Murakumodragon]]

−

|

 
 

|{{Red}}

 

|{{Red}}

 
+

|Spirit

−

|

 
 
+

|Uncommon

−

|

 
 

|-

 

|-

 

|SD29-009

 

|SD29-009

 
+

|[[The Rookie Hirinmaru]]

−

|

 
 

|{{Red}}

 

|{{Red}}

 
+

|Spirit

−

|

 
 
+

|Uncommon

−

|

 
 

|-

 

|-

 

|SD29-010

 

|SD29-010

 
+

|[[The WildMusha Ma-Zu]]

−

|

 
 

|{{Red}}

 

|{{Red}}

 
+

|Spirit

−

|

 
 
+

|Master Rare

−

|

 
 

|-

 

|-

 

|SD29-011

 

|SD29-011

 
+

|[[The Fierce Dragon Castle]]

−

|

 
 

|{{Red}}

 

|{{Red}}

 
+

|Nexus

−

|

 
 
+

|Uncommon

−

|

 
 

|-

 

|-

 

|SD29-012

 

|SD29-012

 
+

|[[The No.13 East Capital]]

−

|

 
 

|{{Red}}

 

|{{Red}}

 
+

|Nexus

−

|

 
 
+

|Common

−

|

 
 

|-

 

|-

 

|SD29-013

 

|SD29-013

 
+

|[[Flame Sword Strike]]

−

|

 
 

|{{Red}}

 

|{{Red}}

 
+

|Magic

−

|

 
 
+

|Uncommon

−

|

 
 

|-

 

|-

 

|SD29-014

 

|SD29-014

 
+

|[[Douburyuu Draw]]

−

|

 
 

|{{Red}}

 

|{{Red}}

 
+

|Magic

−

|

 
 
+

|Uncommon

−

|

 
 

|-

 

|-

 

|SD29-015

 

|SD29-015

 
+

|[[Crimson Flame]]

−

|

 
 

|{{Red}}

 

|{{Red}}

 
+

|Magic

−

|

 
 
+

|Rare

−

|

 
 

|-

 

|-

−

|SD29-016

+

|-016

 
+

|[[Burst Wall]]

−

|

 
−

|{{Red}}

+

|{{}}

 
+

|Magic/Burst

−

|

 
 
+

|Uncommon

−

|

 
 

|-

 

|-

 

|SD29-X01

 

|SD29-X01

Line 111:
Line 111:
 

|X-Rare

 

|X-Rare

 

|}

 

|}

 
+
 
 
 

==Sasuke Deck==

 

==Sasuke Deck==

Line 121:
Line 122:
 

|-

 

|-

 

|SD30-001

 

|SD30-001

 
+

|[[The SteelBladeDragon Calyvorous]]

−

|

 
 

|{{Red}}

 

|{{Red}}

 
+

|Spirit

−

|

 
 
+

|Common

−

|

 
 

|-

 

|-

 

|SD30-002

 

|SD30-002

 
+

|[[The TwinHorn Dragon Doubhorn|The TwinHornDragon Doubhorn]]

−

|

 
 

|{{Red}}

 

|{{Red}}

 
+

|Spirit

−

|

 
 
+

|Common

−

|

 
 

|-

 

|-

 

|BS08-005

 

|BS08-005

Line 223:
Line 224:
 

|-

 

|-

 

|SD30-X01

 

|SD30-X01

 
+

|[[Sengoku Siegfried]]

−

|

 
 

|{{Red}}

 

|{{Red}}

 
+

|Spirit

−

|

 
 

|X-Rare

 

|X-Rare

 

|-

 

|-

Line 321:
Line 322:
 

==Gallery==

 

==Gallery==

 

<gallery>

 

<gallery>

 
+

SD30-HiRe.jpg|Packaging

−

SD30PACK.jpg

 
 
+

バトルスピリッツ烈火魂<バーニングソウル>新商品PV

 
+

BS-SD30.jpg

 

</gallery>

 

</gallery>

 

[[Category:Starter Decks]]

 

[[Category:Starter Decks]]
---
Latest revision as of 07:29, 28 August 2015
SD30, called Battle Spirits Beginning Deck (Rekka Departs) (バトスピビギニングデッキ【烈火出陣】) is a starter deck in trading card game.It is the basis for the deck of Yukimura Rekka and Sasuke Akatsuki. This set contains 30 pieces Blue core, 2 Play sheets, 1 DVD and a Comic Book with Rule Manual. All 48 types of cards: 21 Common, 11 Uncommon, 7 Rares, 5 Master Rares, 4 X-Rares. This set was never released in English.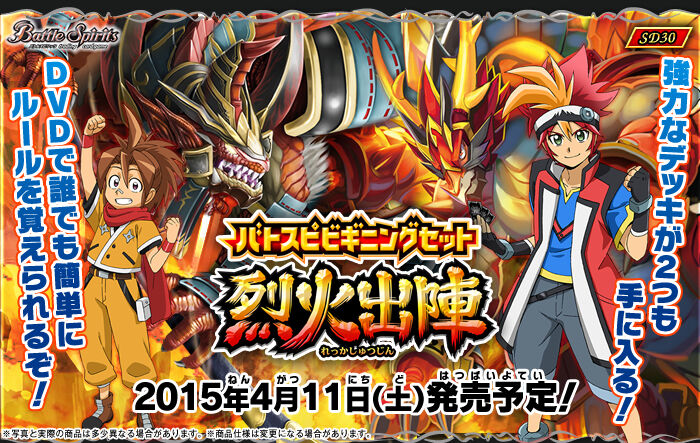 Yukimura Deck
Sasuke Deck
Replacement Cards
Community content is available under
CC-BY-SA
unless otherwise noted.