Introduction
SD24 , titled Full Throttle Acceleration Deck (Zero the Azure) (アクセル全開デッキ【紺碧のゼロ】), is a starter deck in the trading card game. It is the basis of a Blue deck of Rei, the protagonist of the anime Saikyo Ginga Ultimate Zero Battle Spirits.


The set was released together with the Mega Deck, SD25, in Japan on 26 April 2014, and was never released in English. It is the first time a solo Starter Deck that comes with 10 extra cards for deck-editing. The set introduces the new Burst timing:

[ Burst: After an opposing Spirit/Ultimate attacks ].
This set contains 40 cards + 10 Ultimate Dash cards, 15 pieces blue core, a play sheet, rule manual, and Book of Ultimate Cheats. Among the 40 cards, there are 17 different cards, including: 9 Commons, 5 Uncommons, 1 Rare, 1 Master Rare, and 1 X-Rare. There are a total of 5 types of cards among the Ultimate Dash cards.
Set Images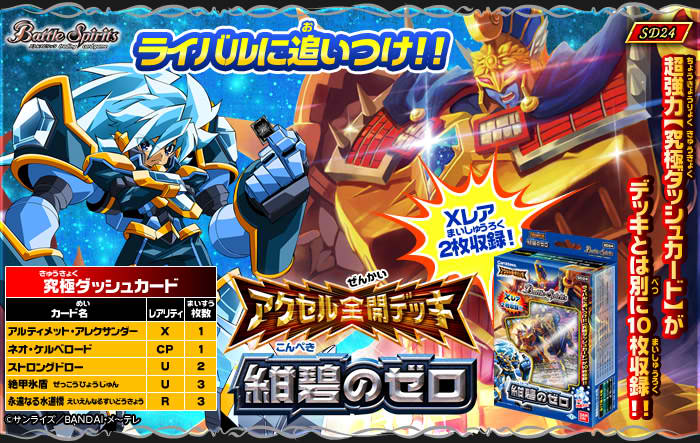 Extra Articles
Set Card List
Card List
Ultimate Dash Cards
Gallery