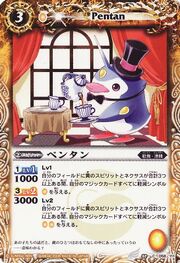 Pentan is a series of penguin-based cards. They were first seen in BS02 and gain members in nearly every set. All Pentan cards are drawn by the artist, Poporucha. All of them are in the family Song Bird, and some of them are in the family Drifting Spirit. All cards are in the colour Yellow. Pentans have been favored by a few anime characters, Kotarou Tanaka, Kouta Tatsumi and Laila April.
Pentans are often depicted as mascots in the culture of Divas, as seen by Raquel's cards, the Brave KigurumiPentan, and the Nexus Welcome to Pentanland.
In 2018, a Pentan-themed premium box was sold in a limited time. Later in the same year, a Pentan backpack was also sold along with the Diva-themed premium box, also in a limited time.
Trivia
All Pentan cards with the name "Raquel" don't have either mentioned families as these cards mainly depict the Diva Raquel who loves Pentans rather than actual Pentans.
A Rei-Ohba card with an alternative artwork of Rei-Ohba carrying the Pentan backpack was given along with the real backpack.
Community content is available under
CC-BY-SA
unless otherwise noted.