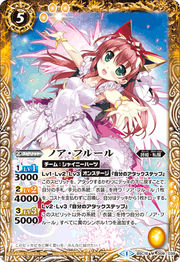 On Stage (オンステージ, Onsutēji) is an effect introduced in BSC16. This effect is made only for the "Divas" in the pack of BSC16.
The effect reads: 
On Stage (Your Attack Step) Instead of attacking with this Spirit, by returning this Spirit to the bottom of your deck, a Spirit card from your hand/Removed From Game zone with name of "XX" and in family of "Stage Style" can be summoned with no cost, and draw 1 card.
XX = Name of a certain Spirit/Ultimate.
On Stage is a very convenient effect as it allows the player to summon a high-cost Spirit very quickly, pushing the game in a quick progress. Furthermore, since it also summons Spirits from the opened zone, the player can still put out cards for other effects.
However, since the Grand Advent era, anti-free-summon effects were promoted, leading to On Stage become a much weaker effect.
Trivia
Only Divas in teams Shiny Hearts and Absolutes have this effect.
Before BSC31, Divas with the Stage Style family don't have this effect.
Related Articles
Community content is available under
CC-BY-SA
unless otherwise noted.