New Pokemon Games - The Loop
Play Sound
Mega-Toutatis
メガトータティス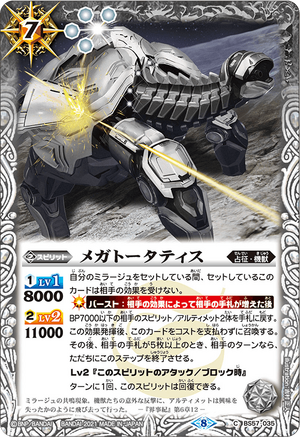 Card Effects
While you have a Mirage set, this set card is unaffected by opposing effects.



[ Burst: After an opposing effect increases the opposing Hand ]
Return two opposing 7000 BP or less Spirits/Ultimates to the Hand. After this effect resolves, summon this card without paying the cost. Then, if the opposing Hand is five or more, and it's the opposing turn, immediately end this step.

[LV2] (When Attacks/Blocks)
Once per turn, you can refresh this Spirit.
Card Effects (JP/日本語)
自分のミラージュをセットしている間、セットしているこのカードは相手の効果を受けない。
【バースト:相手の効果によって相手の手札が増えた後】
BP7000以下の相手のスピリット/アルティメット2体を手札に戻す。この効果発揮後、このカードをコストを支払わずに召喚する。その後、相手の手札が5枚以上のとき、相手のターンなら、ただちにこのステップを終了させる。


Lv2『このスピリットのアタック/ブロック時』
ターンに1回、このスピリットは回復できる。
Sets
BS57 (Block icon 8 - Common)
Illust:

Yoshimura Masato

EN Flavor:


A resonance phenomenon of Mirage. With the surprising counter attack from the machine beasts, the Ultimate seemed to have lost his interest and flew away.
―"Record of Worldly Matters" Volume 6:12―

JP Flavor:


ミラージュの共鳴現象。機獣たちの意外な反撃に、アルティメットは興味を失ったかのように飛び去って行った。
―『界事紀』第6章12―
Extra Information
If this Spirit is going to immediately end the step, even if the opponent declares a Burst, they can't activate it and it's returned to its previous state. However, any effects triggered by the bounce of this card's Burst effect resolve first before the step ends.