Mechanical Mirage
メカニカルミラージュ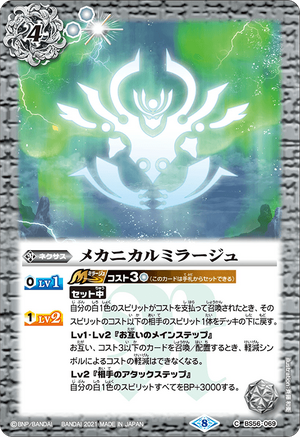 Card Type
Nexus
Color
White
Cost
4
Reductions
Symbols
Keywords
Mirage
Levels
Level 1: 0 cores
Level 2: 1 core
Card Effects
Mirage:
Cost 3 (
) (This card can be set from the Hand)


During Set


When your White-only Spirit is summoned by paying the cost, return an opposing Spirit with a cost equal or inferior to that Spirit's to the deckbottom.

[LV1][LV2] (Either Main Step)
When summoning/deploying Cost 3 or less cards, neither player can use reduction symbols to reduce the costs.

[LV2] (Opposing Attack Step)
Every White-only Spirit you control gains +3000 BP.
Card Effects (JP/日本語)
【ミラージュ:コスト3(1)(このカードは手札からセットできる)】
【セット中】
自分の白1色のスピリットがコストを支払って召喚されたとき、そのスピリットのコスト以下の相手のスピリット1体をデッキの下に戻す。

Lv1・Lv2『お互いのメインステップ』
お互い、コスト3以下のカードを召喚/配置するとき、軽減シンボルによるコストの軽減はできなくなる。


Lv2『相手のアタックステップ』
自分の白1色のスピリットすべてをBP+3000する。
Sets
BS56 (Block icon 8 - Common)