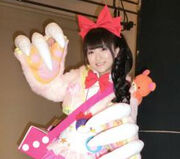 Magical Star Saki (マジカルスター咲) is the fourth mascot of the Battle Spirits trading card game. She is a main character as of the fifth season of the Battle Spirits Cartoon Network series, entitled "Let's All Play! Battle Spirits Time". She also hosts a column on the Japanese Battle Spirits official website.
She comes from a magical world, and is trying to make friends on Earth. On her shoulder is a bear named Daigorou. Her catch phrase is "Yes! Magical☆"
Saikyo Ginga Ultimate Zero Battle Spirits
Magical Star's anime debut. She is voiced by Saki Fujita.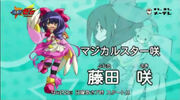 Appearances
Let's All Play! Battle Spirits Time
Let's All Play! Battle Spirits Paradise
Saikyo Ginga Ultimate Zero Battle Spirits