Kouta Tatsumi
Real Name
Kouta Tatsumi
Aliases
N/A
Voice (Japanese)
Reiko Takagi
Voice (Italian)
Barbara Pitotti
Voice (Thai)
Sansanee Tinkeeradit
Gender
Male
Age
N/A
First Appearance
Ep 2
Battle Statistics
Preferred Color
Yellow
Key Cards
N/A
X-Rares
The SuperEmperor Siegpentan-Nova
Kouta Tatsumi (巽 コウタ) is a character in the anime and manga series Battle Spirits Heroes
Appearance
Kouta has black hair and eyes. He wears a green shirt under orange overalls.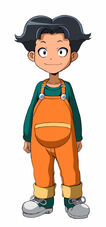 Personality
He seems to have a bit of a smart mouth, and tends to tease Kimari. He admires Hajime. Kouta also loves Pentans, wishing that he had a Pentan costume and claiming that he'll become a Pentan master.
Biography
Kouta is Kimari's younger brother, and the son of Denjirou and Hanayo Tatsumi. Because he always lost to Kimari, he wasn't much of a card battler. He collects cards, however, specifically the Pentan series, and is sometimes seen trading cards for more Pentans.
Kouta accompanies Hajime wherever he goes throughout the series, but due to not being a main card battler himself, doesn't have a very active role in the plot.
Deck
He uses a Pentan themed yellow deck. Though, the contents are mostly unknown, because his battles are mainly off-screen or background events.
Battle Stats
| | | | |
| --- | --- | --- | --- |
| Episode | Type | Opponent | Result |
| 15 | Single battle (in the background) | Kataru | Undecided |
| 23 | Single battle | Arata | Lose |
| 28 | Single battle | Hajime | Undecided |
| 49 | Single battle (In the background) | Kobushi | Win |
Trivia:
Appearances
Battle Spirits Heroes anime
Battle Spirits Heroes (Manga- Ace)
Battle Spirits Heroes (Manga- Jump)
Community content is available under
CC-BY-SA
unless otherwise noted.