Raise a Floppa - The Loop
Play Sound
Kamen Rider OOO Tajadol Combo (Final Episode Version)
仮面オーズ タジャドル コンボ(最終回ver.)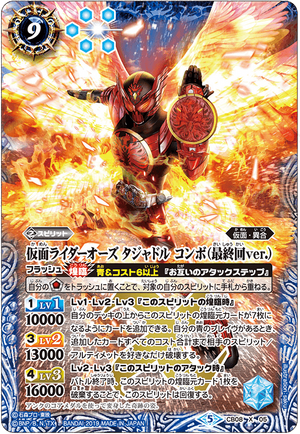 Kanji (漢字)
仮面ライダーオーズ タジャドル コンボ(最終回ver.)
Card Type
Spirit
Color
Blue
Cost
9
Reductions
Symbols
Families
Kamen, Fusion Beast
Keywords
Advent
Levels
Level 1: 1 core, 10000 BP
Level 2: 3 cores, 13000 BP
Level 3: 4 cores, 16000 BP
Card Effects
Flash - Advent:

Blue & Cost 6 or more

(Either Attack Step)
By sending your
to the Trash, stack this from the Hand onto your target Spirit.

[LV1][LV2][LV3] (When Advents)
You can add cards from your decktop as pre-Advent cards underneath this Spirit until it has seven pre-Advent cards. If you control any Blue Brave, destroy any number of opposing Spirits/Ultimates up to a total Cost equal to the sum of the Cost of the cards added by this effect.

[LV2][LV3] (When Attacks)
At the end of battle, by discarding one of this Spirit's pre-Advent cards, this Spirit refreshes.
Card Effects (JP/日本語)
フラッシュ《煌臨:青&コスト6以上》『お互いのアタックステップ』
自分の[ソウルコア]をトラッシュに置くことで、対象の自分のスピリットに手札から重ねる。
Lv1・Lv2・Lv3『このスピリットの煌臨時』
自分のデッキの上からこのスピリットの煌臨元カードが7枚になるようにカードを追加できる。自分の青のブレイヴがあるとき、追加したカードすべてのコスト合計まで相手のスピリット/アルティメットを好きなだけ破壊する。


Lv2・Lv3『このスピリットのアタック時』
バトル終了時、このスピリットの煌臨元カード1枚を破棄することで、このスピリットは回復する。
Sets
CB08 (Block icon 5 - X-Rare)
Illust:

saku

EN Flavor:


A miraculous form obtained by transforming using Ankh's Core Medal.

JP Flavor:


アンクのコアメダルを使って変身した奇跡の姿。

CB20 (Block icon 8 - X-Rare)
Illust:

saku

EN Flavor:


A miraculous form obtained by transforming using Ankh's Core Medal.

JP Flavor:


アンクのコアメダルを使って変身した奇跡の姿。
Gallery