Jun Shiragami
Real Name
Jun Shiragami
Aliases
N/A
Gender
Female
Age
N/A
Battle Statistics
Preferred Color
White
X-Rares
The Gigantic Thor
Jun Shiragami (白神 純) is a character in the manga series Batosupi! We are the Battle Spirits Club.
Appearance
She is essentially a female J. She has white hair and blue eyes. Her school uniform is a white shirt with a tie, under an off-white jacket, with a short gray skirt and black socks.
Personality
She's a nice person, and generally serious, but does have her excitable moments. She cares about Maaya as a friend even though she can be difficult to put up with.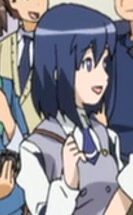 Biography
Jun is a first year high school student, and long time best friends with Maaya Kurenai. Though she hadn't played Battle Spirits prior to joining the Battle Spirits club, she had played another card game in the past. She was enthusiastic about the game, and eventually able to win a High Ranker Pass.
Triva
Her design is based on J Sawaragi
The Shira in her last name uses the kanji for "white."
She appeared in the first episode of Battle Spirits Brave, off-colored.
Appearances
Batosupi! We are the Battle Spirits Club
Battle Spirits Brave (cameo)
Community content is available under
CC-BY-SA
unless otherwise noted.