Icemaiden

アイスメイデン

Name
Icemaiden
Kanji/Kana
アイスメイデン
Name (English)
IceDroid
Released in (Japanese)
BS01, Kerokero Starter, BSC22
Released in (English)
BS01- Call of the Core
Color
White
Cost
1
Reduction
Symbols
Family
Machine
Levels

Level 1: 1 core, 1000 BP
Level 2: 2 core, 2000 BP

Level 1: 1 core, 3000 BP
Level 2: 2 core, 5000 BP

Flavor Text

English/Japanese
He is an invader from another world. The roaring sound from his body transforms the field in reaction. The color of the lives are fading away little by little.

Japanese
異界からの侵略者。彼の者より、ただひたすら鳴り響く音。共鳴し、姿を変えていく大地。面に、より平面に、失われていく命の色。

Rarity
Common
Illustration
Atsushi Takeuchi (concept)
Rulings/Restrictions
None
Trivia:
Related to: Icemaiden Mk-II
Appearances:
Battle Spirits Shounen Toppa Bashin
Gallery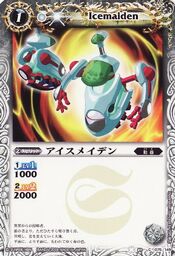 Community content is available under
CC-BY-SA
unless otherwise noted.