Statistics:
Name: Hungrytree
(ハングリートゥリー)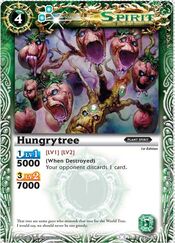 Released in (Japanese): BS01
Released in (English): BS01- Call of the Core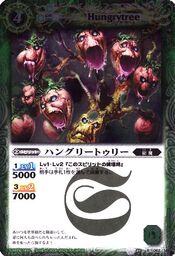 Color: Green
Cost: 4
Reduction: 2 green
Symbols: 1
Family: Plant Spirit
Level 1: 1 core, 5000 BP
Level 2: 3 core, 7000 BP
Effect:
[LV1][LV2] [When Destroyed] Your opponent discards 1 card.
Flavor Text: That tree ate some guys who mistook that tree for the World Tree. I would say, we should never be too greedy.
Rulings/Restrictions: None.
Appearances: